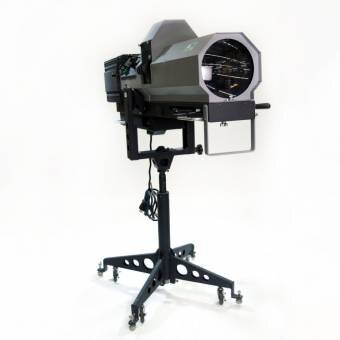 The M2 followspot employs an optical system with two modes of operation, changeable by introducing the "Flip Flop" lens: Fixed focus provides more efficiency and produces a high intensity beam. Good for head and waist shots at shorter throws and a brighter beam capability at longer throws. Variable focus provides a zoom effect and gives a wider beam capability and the ability to adjust gobo patterns to fit the target.
- Long life 2500 Watt HMI lamp
- New condenser optics for ultra flat fields
- Six color boomerang
- Versatile gate assembly
- Fixed or variable focus
Short, Medium and Long throw lenses available
The new ARRI SkyPanel is an exceptionally versatile LED soft light – compact, fully tuneable and delivering light of unsurpassed power and quality. Because different application areas call for different lighting needs, SkyPanel has been designed as a series of fixtures. The S60 is the mid-range model and the S30 is the smaller, more portable version. With SkyPanel, the sky is limitless...

SkyPanel S-30C and S-120C also available.

Chimeras, 30° & 60° Honeycomb, Anton Bauer Battery Adapters and SkyPanelRemotes also available.

Laser Module:Pure diodes, longer lifetime, higher reliability. Low divergence < 1.1 mrad (full angle).
Scanner:PT-A40HP wide angle, New detecting technique, Large scan angle, Excellent overload capacity and linearity.

Laser Case:New dust free design, efficient cooling-Heatsink area covers 40% of the laser case area. Slide cover for easy/quick beam alignment.
Safety:Pure ILDA control board, Safety key switch, Time delay for laser shooting, Emergence stop box ( Time delay ), Slide cover for beam aperture, Shutter, Scan-fail protection, Auto Power-Cut etc.